Are you a victim of Flickering lights and wondering what you should do? We can help!
Replace the fixture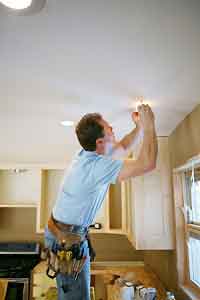 If you have fluorescent lights and have recently replaced the tubes but are still having issues than the problem may be the ballast. Ballasts will sometimes last around 10 years if you are lucky but usually give out at around 5 years. If this is a fixture that you are particularly attached to than we can replace the ballast. However, if you can stomach losing it is typically better to replace the fixture.
What Kind of Fixtures should you get?
When deciding on what kind of lighting fixture you should invest in it's important to keep in mind basic energy efficiency principles. A fixture that has multiple bulbs will always be less energy efficient than a large higher wattage lamp.
The price of LEDs is not going to be practical in every single situation, however, they do fit the bill if you are in need of a long range energy-efficient solution.
Compact fluorescent lights are a good substitute for LEDs while the cost of LEDs is high. CFLs have mercury inside and are typically not going to be as efficient as their LED counterparts.
Our Orange County Flickering Light Repair Electricians Services:
Flickering Light Repair
Repair Lighting
Electrical Fixtures
fluorescent light repair
Fluorescent Light Repairs
Dimmer Lights
Light Flicker
Flickering Fluorescent Light
Fix Flickering Light
Fluorescent Lights Flickering
lighting repair
fluorescent lighting repair
lighting repairs
neon light repair
pool light repair
outdoor lighting repair
light repair
light fixture repair
We offer lighting repair in Orange County Cities:
Anaheim, CA
Santa Ana, CA
Irvine, CA
Huntington Beach, CA
Garden Grove, CA
Orange, CA
Fullerton, CA
Costa Mesa, CA
Mission Viejo, CA
Westminster, CA
Newport Beach, CA
Whittier, CA
Buena Park, CA
La Palma, CA
Tustin, CA
Yorba Linda, CA
San Clemente, CA
La Habra, CA
Laguna Beach, CA
Diamond Bar, CA
Fountain Valley, CA
Placentia, CA
La Mirada, CA
Rancho Santa Margarita, CA
Aliso Viejo, CA
Cypress, CA
Brea, CA
Stanton, CA
San Juan Capistrano, CA
Dana Point, CA
Laguna Woods, CA
Seal Beach, CA
Laguna Niguel, CA
Lake Forest, CA
Laguna Hills, CA
Los Alamitos, CA
Villa Park, CA