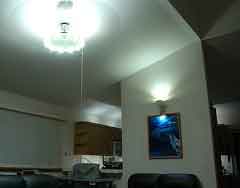 Looking for somebody to help you install or repair your LED lighting? Wakefield Electric has been providing LED lighting services to Orange County for more than 20 years. We are a family owned and operated business who's number one priority is to make sure the job gets done right the first time. Because of our dedication to quality work, Orange County homeowners have quickly come to rely on Wakefield Electric for an experience that no other electrical contractor can give them.
LED Lighting Installation and Repair
Lighting is an essential part of any cozy home. Learning how to properly set up your LED lighting is a pivotal part in creating an inviting experience for friends and family. Unsure of how LED lighting can change the look and feel of your homes interior or exterior? Contact Wakefield Electric for a no strings attached, free consultation on our Orange County LED lighting services.
Check Out Our Orange County LED Lighting Repair and Installation Services
Home Led Lights
Led House Lights
Led Lights For Homes
Indoor Led Lighting
Led Light Bulbs For Home
Led Home Light
Led Home Lighting
Residential Led Lighting
Home Led Lighting
Home Led Light Bulbs
Led Light Repair
Led Light Installation
We do LED Light Installation and Repair in these Cities:
Anaheim, CA
Santa Ana, CA
Irvine, CA
Huntington Beach, CA
Garden Grove, CA
Orange, CA
Fullerton, CA
Costa Mesa, CA
Mission Viejo, CA
Westminster, CA
Newport Beach, CA
Whittier, CA
Buena Park, CA
La Palma, CA
Tustin, CA
Yorba Linda, CA
San Clemente, CA
La Habra, CA
Laguna Beach, CA
Diamond Bar, CA
Fountain Valley, CA
Placentia, CA
La Mirada, CA
Rancho Santa Margarita, CA
Aliso Viejo, CA
Cypress, CA
Brea, CA
Stanton, CA
San Juan Capistrano, CA
Dana Point, CA
Laguna Woods, CA
Seal Beach, CA
Laguna Niguel, CA
Lake Forest, CA
Laguna Hills, CA
Los Alamitos, CA
Villa Park, CA
)