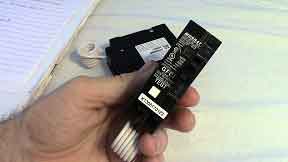 Wakefield Electric has been providing Orange County and all of it's residents electrical services for more than 40 years. Our customers know that we are dependable, affordable, and always make efficient use of our time.
Curious about the difference between AFCI and GFCI receptacles? We are here to help educate you. AFCI outlets, or Arc Fault circuit interrupter breakers must now be included in all new homes. AFCI outlets are essentially designed for protecting your home from an electrical fire while GFCI (ground fault interrupter breakers) outlets are designed to protect you from dangerous electrical shocks.
Wakefield Electric is here to help you through the process of GFCI outlet installation and AFCI outlet installation or replacement. We have been operating with AFCI and GFCI outlets for many years and know the process extremely well.
Looking for some help? Here is a list of the services that we provide:
AFCI Upgrades
AFCI Receptacle
AFCI Outlet
AFCI Breakers
Arc Breaker installation
ground floor breaker installation
GFCI Upgrades
GFCI Receptacle
GFCI Outlet
GFCI Breakers
GFCI repair
GFCI install
GFCI installation
GFCI outlet repair
GFCI outlet installation
GFCI outlet install
replace GFCI outlet
replace AFCI outlet
GFCI outlet replacement
AFCI outlet replacement
We offer GFCI and AFCI Outlet Installation, Replacement, and Repair in these Orange County Cities:
Anaheim, CA
Santa Ana, CA
Irvine, CA
Huntington Beach, CA
Garden Grove, CA
Orange, CA
Fullerton, CA
Costa Mesa, CA
Mission Viejo, CA
Westminster, CA
Newport Beach, CA
Whittier, CA
Buena Park, CA
La Palma, CA
Tustin, CA
Yorba Linda, CA
San Clemente, CA
La Habra, CA
Laguna Beach, CA
Diamond Bar, CA
Fountain Valley, CA
Placentia, CA
La Mirada, CA
Rancho Santa Margarita, CA
Aliso Viejo, CA
Cypress, CA
Brea, CA
Stanton, CA
San Juan Capistrano, CA
Dana Point, CA
Laguna Woods, CA
Seal Beach, CA
Laguna Niguel, CA
Lake Forest, CA
Laguna Hills, CA
Los Alamitos, CA
Villa Park, CA
)