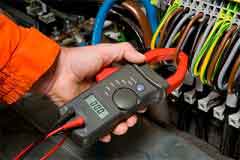 At Wakefield Electric Our experienced Orange County electricians are constantly helping people out with their electrical issues. Many times the source of home electrical problems can be ambiguous. It takes someone with years of experience in the field to figure out complicated issues like this. Wakefield Electric specializes in this. With over 40 years of experience we can go in and troubleshoot electrical problems immediately. We are a same call same day electrical services provider and can be out your house to help you troubleshoot your Orange County home within 1-2 hours of your phone call.
What we Troubleshoot:
If you are having electrical problems with your ceiling fans, wiring, appliance circuits, cable outlets, dimmers, switches, telephone/DSL jack, or spa circuits contact us immediately for a no nonsense, commitment free consultation.
Why Should You Hire Wakefield Electric for your Orange County Electrical Troubleshooting?
Wakefield Electric has consistently provided the most honest, affordable, and dependable electrical services in Orange County. Over the past 40 years our customers have come to rely on our no nonsense attitude towards helping them. We refused to beat around the bush in an attempt to over charge our customers. Do you want the most honest electrician in Orange County helping you with your electrical problems? If so, give us a call today!
We offer Orange County Electrical Troubleshooting in these Cities
Anaheim, CA
Santa Ana, CA
Irvine, CA
Huntington Beach, CA
Garden Grove, CA
Orange, CA
Fullerton, CA
Costa Mesa, CA
Mission Viejo, CA
Westminster, CA
Newport Beach, CA
Whittier, CA
Buena Park, CA
La Palma, CA
Tustin, CA
Yorba Linda, CA
San Clemente, CA
La Habra, CA
Laguna Beach, CA
Diamond Bar, CA
Fountain Valley, CA
Placentia, CA
La Mirada, CA
Rancho Santa Margarita, CA
Aliso Viejo, CA
Cypress, CA
Brea, CA
Stanton, CA
San Juan Capistrano, CA
Dana Point, CA
Laguna Woods, CA
Seal Beach, CA
Laguna Niguel, CA
Lake Forest, CA
Laguna Hills, CA
Los Alamitos, CA
Villa Park, CA
We Provide These Electrical Troubleshooting Services:
Home Electrical Troubleshooting
Residential Electrical Troubleshooting
Commercial Electrical Troubleshooting
Home Electrical Problems Troubleshooting
industrial electrical troubleshooting
Electrical Troubleshooting
Electrical Problems
Circuit Troubleshooting
Electrical Outlet Troubleshooting
Home Electrical Problems
Electrical Circuit Troubleshooting
General Electric Troubleshooting
electrical issues
)