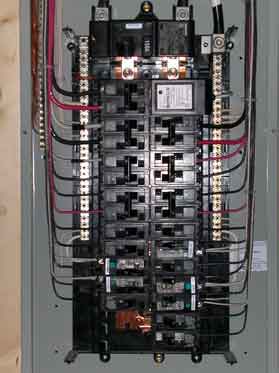 According the National Fire Protection Association over 60% of all electrical fires are caused in some way or another by short circuits and overloading. Circuit breakers are a pivotal strategy in preventing these accidents.
Electronic circuit breakers are known as an over-current protection device (OCPD). Circuit breakers are effective at preventing fires because it will automatically shut down the flow of electric current when its circuits load capacity has been reached. Circuit breakers are now 100% mandatory in all commercial and residential buildings.
Wakefield Electric has been servicing circuit breaker installation and repair for over 40 years and can take care of any circuit breaker related need that you may have. We have experience with all different types of repair services and should be called before attempting to fix an issue yourself. If you are not an experienced electrical contractor it is extremely dangerous to attempt to install or fix a circuit breaker in Orange County.
Our Orange County Circuit Breaker Box Contractor Provides These Services:
Circuit Breaker Boxes
Circuit Breaker Replacement
Ground Fault Circuit Breaker
3 Phase Circuit Breaker
Circuit Breaker Panel
Replace Circuit breaker
Replacing Circuit Breakers
GFCI Circuit Breaker
Arc Fault Circuit Breakers
Replace Circuit Breaker
Circuit Breaker Panels
Testing Circuit Breakers
Circuit breaker replacement
We Provide Circuit Breaker Services in the Following Orange County Areas:
Anaheim, CA
Santa Ana, CA
Irvine, CA
Huntington Beach, CA
Garden Grove, CA
Orange, CA
Fullerton, CA
Costa Mesa, CA
Mission Viejo, CA
Westminster, CA
Newport Beach, CA
Whittier, CA
Buena Park, CA
La Palma, CA
Tustin, CA
Yorba Linda, CA
San Clemente, CA
La Habra, CA
Laguna Beach, CA
Diamond Bar, CA
Fountain Valley, CA
Placentia, CA
La Mirada, CA
Rancho Santa Margarita, CA
Aliso Viejo, CA
Cypress, CA
Brea, CA
Stanton, CA
San Juan Capistrano, CA
Dana Point, CA
Laguna Woods, CA
Seal Beach, CA
Laguna Niguel, CA
Lake Forest, CA
Laguna Hills, CA
Los Alamitos, CA
Villa Park, CA